AGL 44T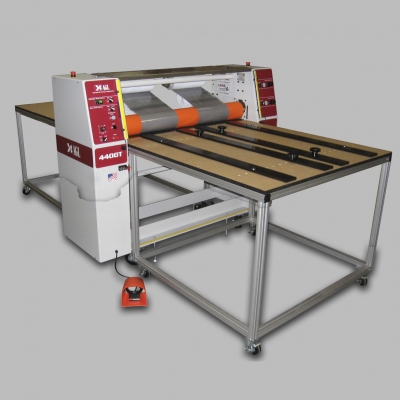 About the AGL 44T
The AGL 44T custom laminator is configured for applying protective films to multiple lanes of contoured automotive components. Some of the innovative features include AGL's legendary heated nip roll design and safety light curtain assembly.
Features
Cantilevered unwind stations with standard core chucks for 3.0 inch ID cores
0.625 inch thick covering of high release silicone compound for the top heated nip roll
Manually adjusted pneumatic tension control system - avoiding film distortion and necking
Safety features include 14 inch light curtains prior to the nip, as well as emergency stop switches at all four corners of the machine
Variable speed control 0 to 15 fpm
Auxiliary infeed table with adjustable parts alignment system
Auxiliary outfeed table with cutting mat
Interested in this product? Contact us today to get a quote!