AGL 64 PS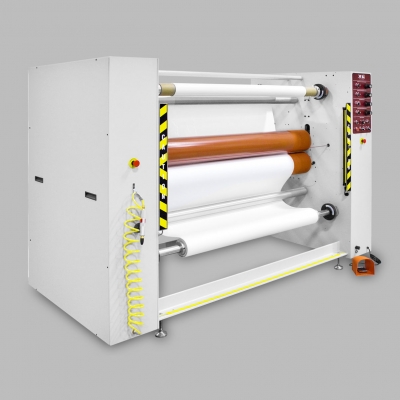 About the AGL 64 PS
The AGL 64 pressure sensitive laminator designed and manufactured for use replacing release liners on various vinyl rolled products from 24.0 to 60.0" wide and having a pneumatically controlled nip opening of 3.0" with spacer system. Operating speeds are variable, forward and reverse, from 3-50 FPM. The top laminating roll is 8.0" diameter x 64.0" roll face (web driven) 60/70 Shore "A" Durometer silicone and equipped with internal electric heat and controls for ambient to 320

°

F operating temperatures. The bottom laminating roll 8.0" diameter X 64.0" roll face covered with 60/70 Shore "A" Durometer silicone. There are two unwind stations (one top and one bottom) with manual tension control for finite tension resolution. A remote foot operated switch for jogging is included.
Features
Two unwind supply shafts with safety chucks (optional air shafts available) 


Release liner windup station 


Finished product rewind station for diameters up to 24 inches
Two (8) inch diameter High release silicone nip rollers - for easy cleaning
Two light curtains protect against access into hazardous areas
Variable Speed Control 3 to 50 fpm
Finished product rewind station with taper tension
AGL's repeatable tension control system - avoiding film distortion and necking

Safety features include 24 inch light curtains prior to the nip, as well as emergency stop switches at all four corners of the machine
Interested in this product? Contact us today to get a quote!