AGL 14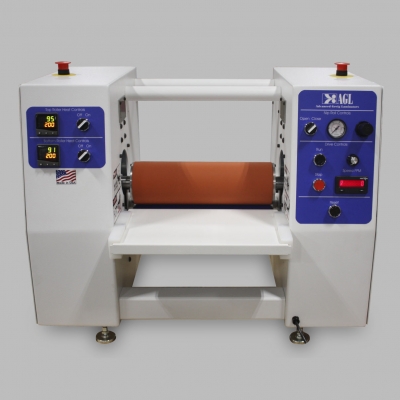 About the AGL 14
The AGL 14 is the latest small tabletop 14 inch laminator for laboratory purposes. This is a 14 inch robust laminator featuring a silicon covered top nip roll, as well as a silicon bottom nip roll. These rolls incorporate AGL's proprietary heating coils which are equipped with electric heat controls for ambient to 320° F. Safety features include a nip protection circuit prior to the nip, as well as emergency stop switches at all four corners of the machine. This machine features .5 - 20 fpm operating machine speeds. Infeed and outfeed tables are incorporated to guide the materials in and out of the laminating nip.
By utilizing standard subassembly components such as unwind stations, rewind station, nip roller assemblies and pull rollers in numerous widths (14", 36", 40", 64", 80", 110") AGL can create a custom laminator in a cost-effective fashion.
Interested in this product? Contact us today to get a quote!