AGL 64T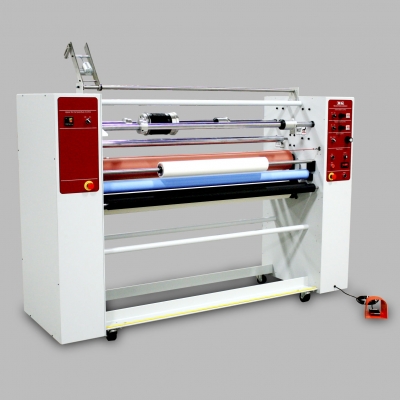 About the AGL 64T
The AGL 64T Industrial Glass Laminator is

a multiple shift laminator that combines the speed and capacity to deliver maximum productivity, reliability and return on investment. This machine was designed to clean glass panels prior to over-laminating them. It features a six inch diameter 50 durometer hypalon rubber top nip roll along with a 80 durometer bottom nip roll assembly, concentrically ground. The top nip roll is equipped with internal electric heat and controls for ambient to 320

°

F. This laminator is also equipped with a glass driven cleaning station that cleans the glass automatically prior to the laminating process.
Features
One cantilevered unwind supply shaft station
One cantilevered release liner windup station
One driven glass cleaning station with disposable adhesive roll
Auto grip core chucks
Upper unwind slitter assembly
Digital speed read-out
Pneumatically controlled film tensioning system
Variable Speed Control 1 to 15 fpm
Pulsed static elimination bar
Interested in this product? Contact us today to get a quote!