AGL 72 Industrial Vinyl Laminator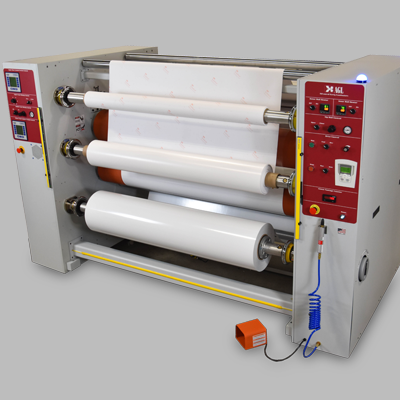 About the AGL 72 Industrial Vinyl Laminator
The AGL 72 hasone of the most unique features of a roll to roll industrial vinyl laminator. This laminator combines the speed, capacity and over-laminating technology to convert any type of material with maximum productivity, reliability and return on investment. The unique feature detailed in this machine is the pre-mask winder in the upper front part of the laminator. The function of this laminator is to take large rolls (15 inch diameter) of printed cast vinyl media, overlaminates them while removing the release liner as well as the casting sheet on the overlaminate.
Features
Automatic closed loop tension control
Heated 10 inch diameter nip rolls, top and bottom
Machine speeds of 0 – 100 fpm
Anti-Static removal systems
Lug style airshafts at all locations
Digital footage counter detailing linear footage laminated through the machine
Roll diameter sensing and taper tension control for rewinds
End of roll diameter sensing that senses when the machine is nearing the end of a roll and thereby slowing the machine to a stop. This feature prevents web breaks saving a costly re-webbing process.
Internal heat settings for both nip rolls
Nip roll activation and pressure settings
Automatic transducer tension controlled brake tension at all unwind stations
Automatic roll diameter sensing for taper controlled rewind clutch tension
Pull roll activation and pressure settings
Light curtain safety system
Interested in this product? Contact us today to get a quote!