AGL 64 Sheet Fed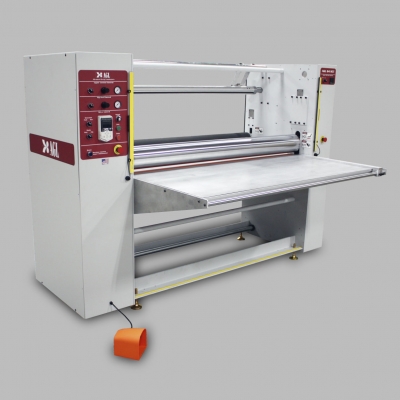 About the AGL 64 Sheet Fed
The AGL 64 custom industrial laminator is a customer specified laminator for a high production vinyl converting facility. Some of the innovative features include roll to roll laminating, 3 to 75 FPM laminating speeds, high throughput speeds, as well as AGL's legendary heated nip roll design.
AGL uses a silicone coated steel roller construction without a crown in the roll. While our competitors use aluminum rollers and crown the silicone coating to compensate for their roller deflection (bending), we know this cost cutting technique will only cause you to have problems like in-feed waves (i.e. where the print buckles going into the laminator causing wrinkles and silvering). AGL rollers are guaranteed to have a 100% flat profile. AGL rollers have an embedded temperature feedback sensor. This feature makes sure you never have to worry about hot spots that will damage your prints.
Features
One cantilevered unwind supply air shafts for quick and easy loading of laminates into the laminator
One custom extended in-feed table for better support of incoming sheets of material
One custom out-feed table for better support in cutting surfaces between laminated prints
One pair of pull rolls assisting the laminated products as they exit the laminator
High release silicone rollers - for easy cleaning
AGL's repeatable tension control system - helps avoid film distortion and necking
Variable Speed Control 0 to 75 fpm
Linear footage counter/digital speed readout (optional)
Interested in this product? Contact us today to get a quote!