AGL 72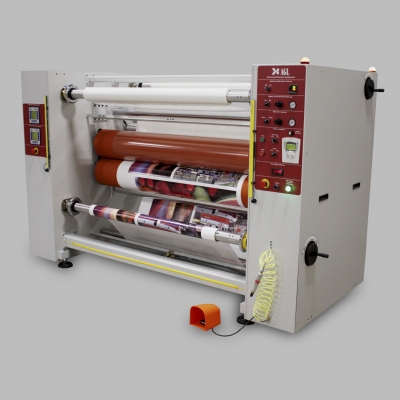 About the AGL 72
The AGL 72 inch custom high speed laminator is configured for applying pressure sensitive vinyl over-laminating films to a variety of printed vinyl decals. Some of the innovative features include AGL's legendary heated nip roll design and the bottom nip roll to warm the printed vinyl for processing at high speeds. This laminator also features ultrasonic sensing for detecting the ends of both unwinding over-laminate as well as the unwinding the printed vinyl. This allows for an automatic shutdown of the laminator from 100 FPM to zero approximately10 feet from the actual end of either roll of material. This feature is helpful to allow one operator to do multiple tasks.
Features
Unwind and rewind assemblies feature safety chucks for easy loading and unloading of materials
Cold top laminating roll Heated driven bottom laminating roll
Durable silicone nip roll coverings
Automatic pneumatic transducer tension control system – automatically avoiding film distortion and necking of the materials
Leaf type air shafts for 3.0 inch ID cores
Variable Speed Control 1 to 100 FPM
Offers a high speed fleet graphic lamination solution
Interested in this product? Contact us today to get a quote!