AGL 36 CHTB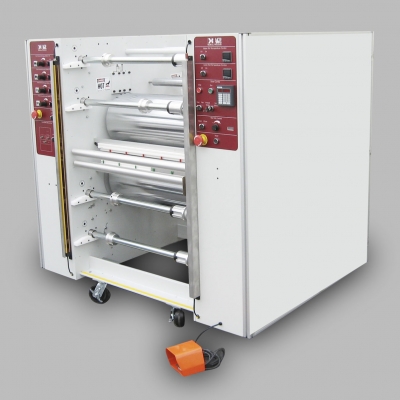 About the AGL 36 CHTB
AGL 36 CHTB custom designed and manufactured laminator for the high tech film industry. This machine features a 30.0" maximum working width processing material thickness from 1-30 mil utilizing speeds of 3-20 FPM. A special electrical drive system allows for incremental speed changes in increments of 1/10th FPM. Electrical specifications are 220VAC, 50/60 Hz, three phase power and 40 amps of currents. Pneumatic requirements are 80 PSI of clean and filtered air.
Features
Pneumatically controlled laminating nip assembly with proportional valve type control ensures uniform nip pressures
Seven, cantilevered, unwind and rewind stations are incorporated into this machine providing for exceptional web path configuration
Photo electric light curtains for safety purposes
Air shafts
Interested in this product? Contact us today to get a quote!