AGL 40 CHTB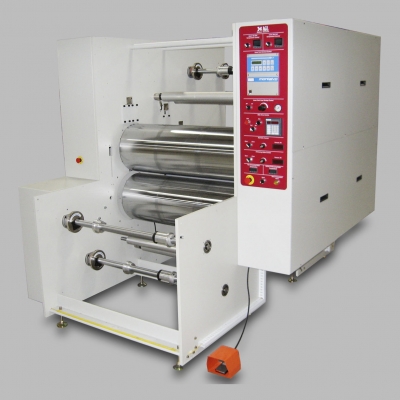 About the AGL 40 CHTB
AGL 40 CHTB laminator designed for use in the solar industry. Heavy side frames blanchard ground for precision assembly. The top nip roll is web driven and has a 14.0" nominal diameter. It is chrome plated with internal electric heat and controls for ambient to 450° F operating temperatures. The bottom nip roll has the same configuration as the top roll except it is motor driven. This machine features a pneumatically controlled laminating nip assembly with proportional valve control for precision nip pressures. A top and bottom water cooled embossing station is pneumatically controlled and embosses the film as it exits the laminator. Operating speeds for this machine are from 1-10 FPM.
Features
Three unwind stations featuring a 12.0" maximum diameter capability
Transducer tension control for finite tension resolution
Mechanical safety chucks designed for positive automatic locking of the supply shafts when rotating in either direction
Precision in-feed table that is used for accurate placement of solar panels being introduced to the heated nip assembly
Interested in this product? Contact us today to get a quote!