Patriot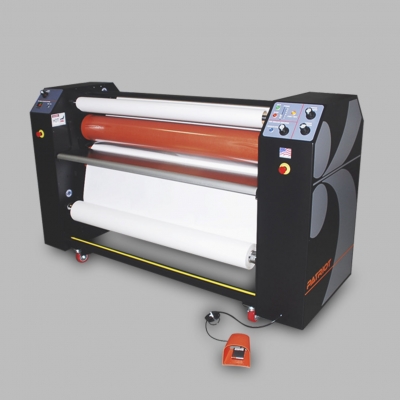 About the Patriot
The Patriot laminator is designed to specifically address the issues associated with finishing UV, Latex and Solvent based printing technologies. With AGL's proprietary nip roll design and the Industries best heating system, this laminator solves the problems associated with poor laminate adhesion and silvering. Processes include roll to sheet lamination, roll to roll lamination, mounting, pre-masking and one sided thermal laminating. The Patriot is also equipped with fully pneumatic tension control system for process repeatability and cantilevered material supply stations for easy loading of materials. The Patriot's swing up infeed table and pneumatically controlled pull roll assembly make webbing a breeze. With the heavy-duty construction and throughput speeds of up to 30 fpm, the Patriot is truly a high production laminator. Optional in-line rear rotary trimmer assemblies and inflatable material supply shafts are also available to increase productivity.
Features
Pneumatically controlled nip roll and pull roll assemblies
Pneumatically controlled unwinds and rewind assemblies for repeatable film tension and process control
Dial in nip roll shim assembly for mounting and laminating different thickness sub-straights
10 inch diameter unwind/rewind capacity
8" all steel non-crowned nip roller design
Single heated nip roll assembly (top or bottom) with temperatures to 320°F
Swing up feed table
Interested in this product? Contact us today to get a quote!