AGL 64 Series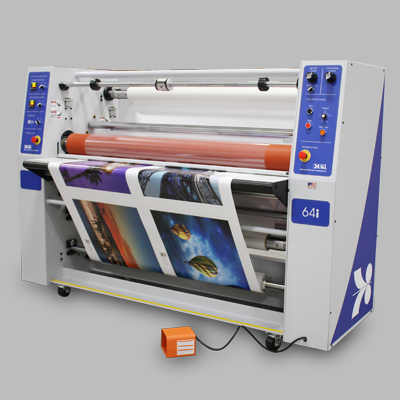 About the AGL 64 Series
AGL 64 Series laminates and mounts a 62.0" wide maximum thermal or pressure sensitive laminating film. All models feature 10.0" diameter heavy-duty cantilevered unwind stations, 6.0" diameter pneumatically actuated nip roller assembly with "dial-in" spacer system, RTS brake system for precise tension control feed back and 0-20 fpm operating speeds.
The 64 series is Available in four models:
64i - (Bi-Directional)
64R - (Reversible Multipurpose Machine with Pneumatically Controlled Pull Rollers)
64T - (Heated Top Nip Roller Only)
64C - (Cold Lamination and Mounting Only)
Features
Spring Blade Core Chucks – positively locks rolls of material onto the supply shafts
Easy Web Feed Table – makes for easy webbing of materials by pivoting forward 90° giving the operator full access to the lower supply shaft
Swing out supply stations make for easy loading of rolls of material
RTS (Repeatable Tensioning System) – allows the operator to record and duplicate proper film tension settings for each job
Print Basket – used for easily feeding long individual prints
Curl Cam – operators can manage and eliminate print curl during the lamination process
Interested in this product? Contact us today to get a quote!