AGL 8000 Series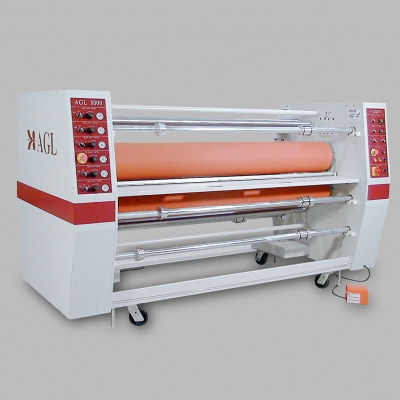 About the AGL 8000 Series
The AGL 8000 is the "Big Brother" to our AGL 6400. The 8000's are available in dual heat, single heat and no heat configurations. The 8000R is fully bi-directional laminator capable of processing thermally activated, pressure sensitive adhesive coated and heat assist applications. The main nip roller assemblies and pull roller assemblies are pneumatically actuated for repeatability and safety. All material supply shafts are cantilevered for easy loading and unloading of material rolls. All supply stations are controlled with pneumatic brake and clutch assemblies for accurate and repeatable film tension control. The 10" diameter nip roller assemblies are all steel construction and covered with high release non crowned silicone.
the 8000 series is Available in four models:
8000R - (Thermal and Pressure Sensitive Materials)
8000S - (Thermal and Pressure Sensitive Materials)
8000C - (Cold Lamination and Mounting Only)
8000T - (Heated Top Nip Roller Only)
Features
Pneumatically actuated nip roller and pull roll assemblies
Main supply stations are equipped with pneumatic clutch/brake assemblies for precise and repeatable film tension control
Bi-directional unwind/rewind capabilities
10" diameter capacity heavy-duty cantilevered unwind stations
All steel non-crowned roller design
Mechanical and TapeSwitch emergency stops
Emitter/receiver nip protection
Standard production speed is 20 fpm - 30 fpm speed upgrade is available.
Interested in this product? Contact us today to get a quote!