Go back
AGL 64i Laminator
Advanced Greig Laminators, Inc (AGL) Deforest, WI – AGL's 64i Laminator has been the workhorse for the wide format graphics industry for more than 10 years. As more and more graphic shops are experiencing laminating delays due to backups in their finishing departments. AGL announces that the 64i can process these laminating functions at a faster rate with the addition of a speed upgrade. With this option the 64i is now capable of processing speeds up to 30 FPM. This speed upgrade will allow graphic shops more productivity and finishing output for more business growth in the future.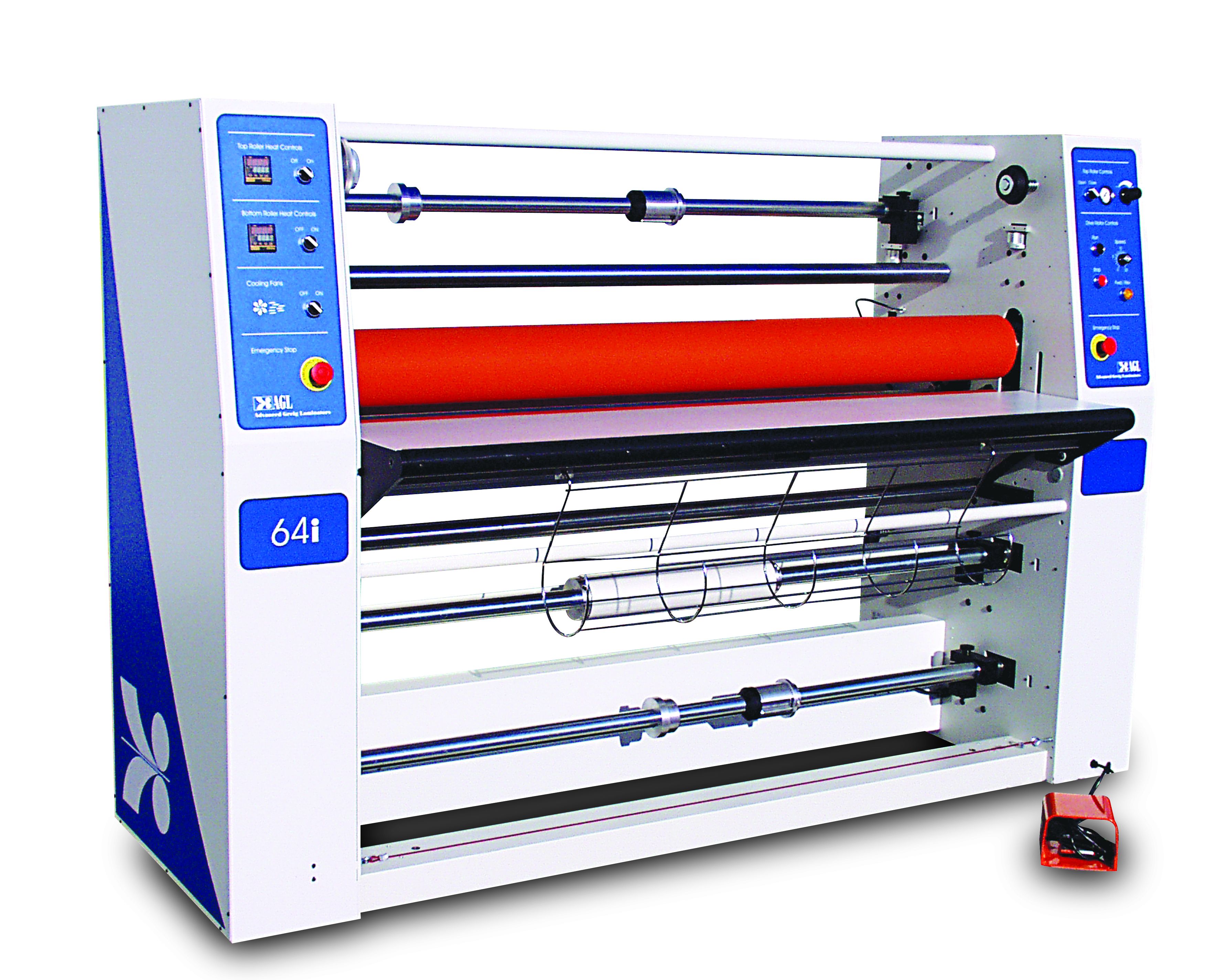 This new speed upgrade will enhance the existing exceptional features of the standard 64i, including:


Easy Web Feed Table -which pivots 90°- is ingeniously linked to the bottom idler, making it retract or (travel) when the table is rotated. This unique feature to the AGL 64i, allows the operator to web film from the bottom supply shaft and never have to crouch under the table or get on your knees (a laborious task on other laminators). The Easy Web Feed Table also features a dual latch for secure docking, yet has an elegant single handle release making it a smooth and fast one handed operation. Another not so obvious, but strong, feature on the Easy Web Feed Table is the hidden film guide. When the table is in the "disengaged position" it exposes the film guide ensuring that the laminates are webbed straight, thereby reducing your setup time and waste.


RTS Brake - (Repeatable Tension System Brake) -Adjusting film tension for prints that curl up or down is a guessing game. That is until now. With the RTS Brake you get a direct feedback you can "see". So stop thumping on the film, stop the guessing! Set it, record it, and repeat it! You see it's just that easy. You get consistent results each time you laminate a print. No longer will you have to print 2 just to get one right! The RTS Brake will save you a lot of money in just a few jobs.


AGL's Heated Roller Construction - Unlike our competitors, AGL stands alone with its superior heated roller construction. First, AGL uses a spiral wound heater assembly that has direct contact between the heating element and the roller. This direct contact gives you faster heat transfer and makes the heating elements last longer. You can also expect to get uniform temperature across the entire width of your rollers. This will insure even activation of your thermal adhesive films without cold or hot spots. Second, AGL uses a silicone coated steel roller construction without a crown. While our competitors use aluminum rollers and crown the silicone coating to compensate for their roller deflection (bending), we know this cost cutting technique will only cause you to have problems like in-feed waves (i.e. where the print buckles going into the laminator causing wrinkles and silvering). AGL rollers are guaranteed to have a 100% flat profile. Third, AGL rollers have an embedded temperature sensor. This feature makes sure you never have to worry about hot spots that will damage your prints. Other types of temperature sensors are fooled when you run cooling fans or when the rollers are stopped, causing them to over-heat sending the temperature higher. This over-heating can cause de-laminating of the silicone coated rollers.
In many laminating markets standard run-of-the-mill pressure sensitive/thermal mounting presses do not meet specific laminating requirements. AGL has answered this dilemma with an industrial laminating product line that can be customized and configured to specific customer requirements. AGL specializes in custom designed industrial laminators. We encourage customers to combine process requirements into custom machine configurations. By utilizing standard subassembly components such as unwind stations, rewind station, nip roller assemblies and pull rollers in numerous widths (14", 36", 40", 64", 80", 110") AGL can create a custom laminator in a cost-effective fashion.
High performance laminators from a name you have trusted for over 65 years. Equipment design for the Wide Format Digital Imaging Market, or for Custom Industrial Applications, we have a solution for you. For more information contact AGL at 1-800-276-2664.